OpenMS Studio: A fusion of two powerful platforms for clinical proteomics applications
Research hospitals around the world are engaged in the discovery of disease mechanisms, and in the pursuit of molecular signatures that help detect the onset of disease and accelerate treatment. Molecular signatures, or "biomarkers", can also help us understand what treatments to give to which patients, and predict outcomes. The discovery process is fueled in part by proteomics technologies. Such technologies generate complex data-streams that require sophisticated data analysis routines to reach the goal of the exercise – a multiprotein biomarker that ultimately can be used in the clinic.
There are two phases to the development of a biomarker: discovery and validation. In discovery, an emerging best-in-class solution uses an untargeted mass spec method called "Data Independent Acquisition" (DIA) that generates large, overlapping sets of signals. These signals must be mined for protein identity and abundance. After discovery, the activity shifts towards validation often using a more targeted mass spec method, called "Parallel Reaction Monitoring" (PRM). Easy-to-use but powerful software tools are required to accelerate clinical biomarker discovery.
The OpenMS Studio represents the fusion of OpenMS with the Mass Spec Studio, to create new apps for clinical research.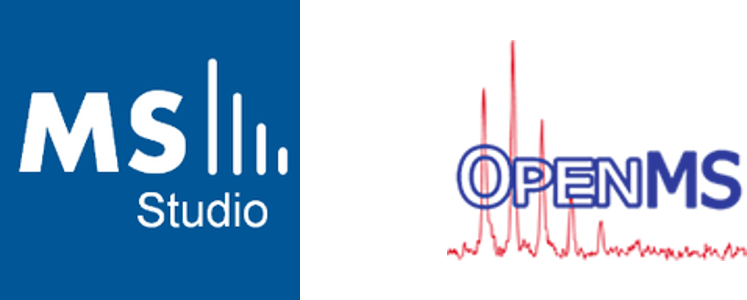 OpenMS (www.openms.de) is a leading open-source framework for the computational analysis of mass spectrometric data. It leverages a community of developers worldwide. It is unique in the field for providing well over 175 industrial-strength high-performance algorithmic implementations for most tasks in computational proteomics. These tools are generally command-line driven, but recent community activities have included the adoption of workflow engines, to provide some flexibility to the user for combining algorithms into tailored workflows. With respect to clinical research, OpenMS provides a platform for analyzing DIA data, based on the OpenSWATH algorithm (www.openswath.org), which is vendor specific. A familiar Windows environment would extend the reach of OpenMS tools, particularly for clinical research teams.
The Mass Spec Studio (www.msstudio.ca) is an architecture that supports the development of mass spec data processing apps in a Windows enviroment. It was created over the last 12 years to reduce the burden of new software development for a wide range of valuable applications. The Studio allows for component reuse in every new development project, with new extensions continually adding to the Studio's appeal as a general-purpose tool builder. It exceeds the capabilities of the generic workflow generators, particularly in areas of visualization, processing speed, and ease-of-use.
The OpenMS Studio wraps OpenMS TOPP tools to create an advanced resource for generating new, easy-to-use apps for any application of mass spectrometry. Two new apps have been developed in support of clinical proteomics:
OpenDIA – an app that provides vendor-neutral support for DIA analysis, including an efficient library creator and script-building app for launching OpenDIA on high-performance computing assets.
OpenPRM – an app that generates a list of peptides from mass spec data libraries, ready for insertion in mass spec methods for targeted data acquisition.
This fusion of technology contributes to the mission and vision of both platforms – the generation of a content-rich repository that is easily reused to produce new, high quality applications.